Double Orb
£49.98
1/3 serious accidents are from the side. The Orb is designed to help prevent these accidents, by keeping you visible from every angle.
Get two Orbs for a discounted price!
Out of stock
Description
Key features
Key Features
700ml BPA-free bottle, with an ergonomic design and high-quality finish
USB rechargeable
Four super-bright LEDs emit 72 lumens of light
360-degree visibility
Eight-hour constant runtime
About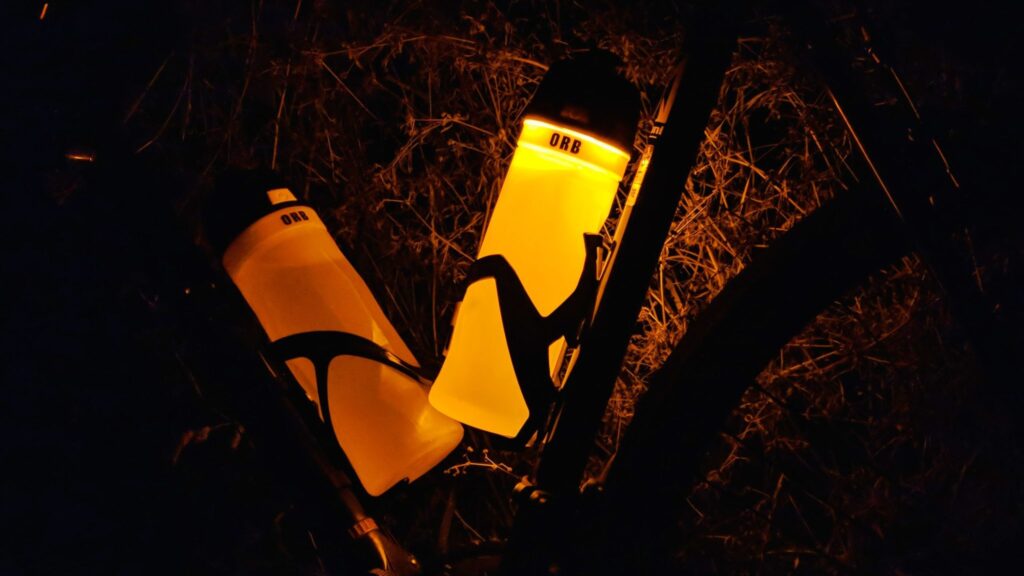 About the Orb
1/3 serious accidents are caused by a side impact from a vehicle. The Orb keeps you safe and seen from the side at night. The Orb functions as a water bottle, but the lid contains four super-bright LEDs illuminating the bottle with over 70 lumens of light.
It allows drivers to see cyclists as they approach them from the side, using orange lights – the colour of side visibility on the road. The Orb also making use of the phenomenon of "biomotion" – by highlighting the pedalling motion of the rider's legs, drivers have been found to identify cyclists from over three times further away
Here at Team Orb, we're so confident you're going to love what we've got that we're offering a 110% money-back guarantee. Yep, you read that right, and we mean it. Read on below for more information.
Product Data
Product Data
72 lumens of light
Micro USB rechargeable
700ml capacity water bottle
BPA free
Fits a standard bottle cage
Minimum eight-hour runtime on full power and 16 hours when used on flash
5 different flashing and constant light modes
Guarantee
Guarantee and Caring for your Orb
Here at Orb HQ, we're pretty confident you're going to like what we've got. So confident in fact, that we're going to offer you our satisfaction or 110% money-back guarantee within 30 days. No, this isn't like in The Apprentice when they give 110%. This is an actual 110%. If you buy an Orb from us at £30, and you decide you don't want to keep it just send it back, and we'll send you £33.
FAQs
FAQs
Why is the Orb orange?
Orange is the colour of side-lighting on the roads. Lorries (trucks to you Americans), vans, trailers, buses, and some cars use orange side lights.
Can you drink from it?
Yes! The Orb is not just a light – it is BPA free, and has a capacity of 700ml.