The Zeppo v.8
£1,249.99
The Orb Zeppo is the only bike most people will ever need. Made for the city, but excels everywhere. Robust and low maintenance without compromising on weight.
We pay for the capture and storage of the entire carbon footprint of every bike we sell through our website.
Additional information
| | |
| --- | --- |
| Weight | 11 kg |
| Colour | Purple Schlurple, Smog Dog Grey |
What's new with the Zeppo v.8?
What's new with the Zeppo v.8?
After the fantastic success of the Zeppo v.7, we felt that little needed to change. However, there is always room for improvement and we've made the v.8 even better by adding:
Colour-matched mudguards as standard, meaning the Zeppo v.8 guarantees you dry legs and a splatter-free rear year-round
An upgraded Shimano Nexus 8 hub gear, giving you a phenomenal 307% range and ensuring no hill is too big* for the Zeppo v.8
The Orb Droid light set, providing anti-theft front and rear lights that will keep you safe at night
*We've put this to the test by riding the Orb Zeppo v.8 up the UK's biggest climb on public roads, Bealach na Ba in Scotland
In brief

Features
"No oil" Gates belt drive replaces the chain for low maintenance
Shimano Nexus 8 internal hub gears are robust, reliable, and have a 307% range
6061 alloy frame and forks keep the weight down to 11kg
Tektro HD-T275 hydraulic disc brakes provide high power stopping in all conditions
Anti-theft Droid light set for front and rear visibility

Alloy colour-matched mudguards to keep your legs dry through the winter

700c wheels paired with 32mm Kenda tyres that are perfect for city and country
About
About The Zeppo
The Orb Zeppo is the only bike most people will ever need – it's at home cruising through the mean streets, skipping past on country roads, nipping down your favourite towpath, or even darting along a gravel track.
The 6061 alloy frame provides a high-quality lightweight chassis, paired with disc brakes and 32mm tyres as standard. Shimano Nexus 8 hub gears and a Gates CDX Carbon belt drive keep maintenance to an absolute minimum.
Drivetrain
Belt Drive
The Gates Carbon Belt Drivetrain means less time spent on maintenance and more time enjoying your new ride. You won't have to worry about getting your work trousers greasy, or marking your pegs with the ubiquitous oily chainring – all you need to keep the belt drive running smooth as Tom Jones is a squirt of water every once in a while.
With most bike spares so hard to come by at the moment, the Gates belt drive will be your best friend. Average lifespans are around 30,000km, so you won't have to worry about changing it for many years (if ever!).
Shifting
Gears and Brakes
This is really the business end of a bike, and you can be sure we've invested in quality.
Shifting is provided by a Shimano Nexus 8 hub, reliable, robust, and low maintenance.
Meanwhile, front and rear Tektro 275 hydraulic disc brakes will have you stopping on a sixpence in all weathers.
Lights and Mudguards
Lights and Mudguards
Dark outside and tipping it down? No problem. The Zeppo v.8 has you covered.
Alloy mudguards keep you safe from road spray, with the colour-matched paint maintaining the bike's aesthetics. And our Droid anti-theft lights mean you're always ready to tackle the darkness. These be-seen lights are designed to be left on the bike and, with up to 40 hours of battery life, they'll keep you visible ride after ride.
Specifications
Specifications
11kg approx.
For men and women
8 speed Shimano Nexus hub gears
Gates Carbon CDX 120-tooth belt
Mounts for racks, mudguards and bottle cages
6061 aluminium frame and fork
Front and rear Tektro 275 hydraulic disc brakes with 160mm rotors
Kenda Kwicktrax 32mm tyres for the perfect combo of grip, rolling resistance, and puncture resistance

Colour-matched alloy mudguards and a c

hainstay-mounted kickstand for convenience
Fully carbon sequestered
Fully carbon sequestered
Every bicycle sold through our website will have its entire carbon footprint removed from the atmosphere through Stripe Climate – read more about our approach here.
This doesn't mean simply planting trees, but carbon capture and storage of CO2 from the atmosphere using frontier technologies.
Estimates vary between about 96kg a bike and 134kg per bike. So to be on the safe side, we have decided to pay for the carbon sequestration of a minimum of 200kg per bike sold through our website.
Shipping and Sizing
Shipping and Sizing
UK and NI – £20 APC courier overnight (though please bear with us during the current driver shortages)
Sizing is super simple, with two sizes cover everyone from 5'3″ to 6'4″
Size 1 for 160-178cm/5ft 3″- 5ft 10″ (standover height 72cm)
Size 2 for 178-193cm/5ft 10″ – 6ft 4″ (standover height 80cm)
FAQs
FAQs
Q. Is it ready to ride when delivered?
A. Almost. As the Zeppo has to fit in a box for delivery, the front wheel, handlebars, and pedals need mounting. This is a simple job, and we'll be send an instruction manual.
Q. Is the Zeppo for men or women?
A. Both! All bodies are different, and whether your a man or a woman doesn't really change the bike you should ride.

Guarantee
Guarantee and Caring for your Zeppo
The best thing for all bikes is to keep them somewhere warm and dry. Clean your bike regularly, and keep an eye on bolts and components to make sure they are tight and working correctly. The Zeppo is designed to be low maintenance – the belt drive does not require oiling, but if it begins to squeak, clean with water. Wax is also available to buy for belt drives. The internal gears are designed to need minimal intervention, but like everything else on your bike will last longer if kept maintained. If you think there may be something that needs adjustment, take your bike to your local bike shop.
Orb Warranty
We are not messing about with our Orb warranty. The frame and fork are guaranteed for 3 years, and Shimano components are guaranteed for 2 years. If it's broken, and it's our fault, we'll fix it, or replace it. It's as simple as that, and you won't have any trouble holding us to it. Just get in touch on [email protected] and we'll take care of it.
---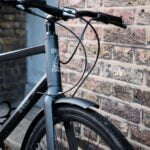 The Zeppo v.8
Your review
* Review is required
Email
* Email is required
Add photos or video to your review