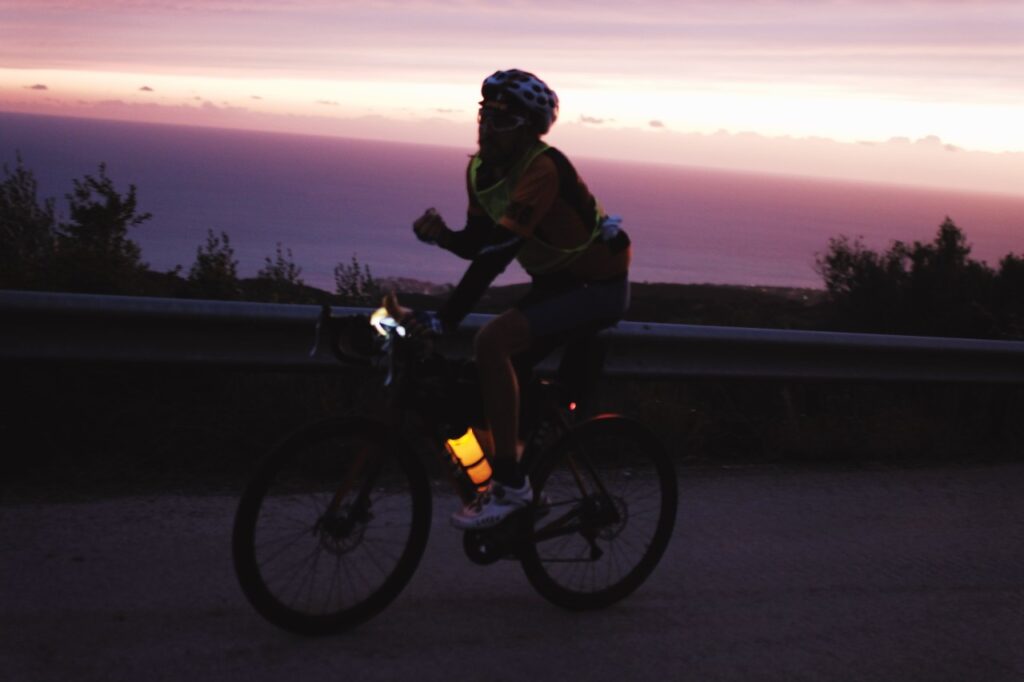 The skin on my hip has regrown, and my fingers have regained enough sensation to type almosjt normally, which I guess means it's time for me to get round to my Two Volcano Sprint write-up. 2vs is a brand new race of 1097km – short for an ultra race, but with almost impossible amounts of climbing, 24,000m (equivalent to about 2.7 ascents of Everest).
This was my first ever ultra-endurance race, and whilst I'm used to cycling a long way by normal standards (200+km in a day has been fine for a few years now), I had never broken the 300km barrier before I rolled to the start line with a race plan of doing it 3 days in a row.
But I've always been an optimist, and despite a week in bed with a fever before the race, I had been training hard and knew I was starting in the best shape of my life. Not that that helped much when I rolled out of bed at 4am on race day to find it pouring with rain; not since an August day in AD79 had a group of people contemplated Vesuvius with less relish.
The (very dashing in the most Italian way possible) mayor of Herculaneum cut the ribbon and we started the race with everyone trying to clip into their pedals first time on a 10% slope in the dark, with several photographers waiting for the perfect picture of anyone who fancied an early morning breakfast of tarmac.
Race-favourite Ulrich (hot off two other endurance race victories this year) and I reached the summit together in the pouring rain, turned around and descended again. For the rest of the morning, Ulrich, Adrien, Rob, and I leapfrogged each other until I passed Ulrich fixing a puncture and spent most of the rest of the day out front. It was pretty simple, keep pedalling, enjoy the view, and try not to fall off. I managed two of the three.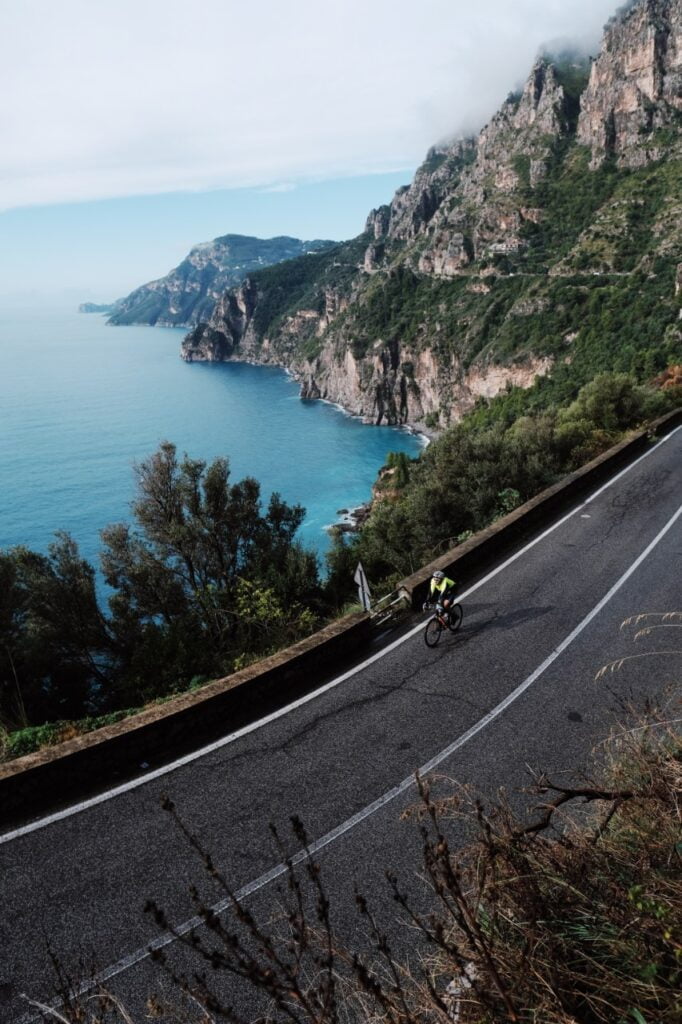 Ulrich passed me some time in the evening, as we turned inland, and then as the climbing intensified I caught up with him on a lonely slope. We rode together for an hour or so, with Ulrich looking effortless on a bike that weighed less than the pizza I had for lunch, and me trying desperately to look like 350km was the kind of distance I rode every day.
At the 390km mark, heroic visions of pushing through the first night vanished, and I stopped at a hotel in the mountains. After trying to explain to a very bemused receptionist that I would like my breakfast at 0345, I lay in bed for 4 hours as a deeply unpleasant battle between extreme exhaustion and sleep on the one hand and the jabbing pains in my knees, calves, elbow, and hip, on the other, raged through my body.
When I set off again at 0415 though, I felt revived, and my spirits rose again with the sun a few hours later. I'd slipped to third position in the race as I slept, but when I stopped for a rapid morning coffee and feed, the barman told me a rider had passed by just 10 minutes earlier. With the scent of Swiss in my nostrils, I set off and found Adrien looking despairingly at yet another hill about an hour later.
Riding on, the sheer brutality of the race became ever more obvious. One climb which started off looking like little more than a farm track turned into 20km of ascent. First place stayed about 4/5 hours ahead for most of the day, and the more I rode the more I resolved to try and push through the second night with the hope of catching Ulrich as he slept.
With 13.5 hours of darkness to 10.5 of daylight, it was easy to let the idea of riding through the night take on an oppressive, threatening, menace, which could overshadow the physical difficulty of it. Mentally I told myself that I could stop and get a room somewhere, but realistically I knew if I wanted to push Ulrich close, I wasn't going to do that. Weirdly, the orange light of my Orb provided some companionship, and I found a new use for it – allowing you to see your shoes and pedals so you can clip in without smashing your shin into another pedal whilst exhausted.
The toughest few hours came around 1am-4am when I entered the Aspromonte National Park, and the endless tunnels of chestnut trees over the road seemed to make the blackness even blacker. The blue/white pool of light in front of me started becoming hypnotic, and on some of the descents I started noticing myself falling asleep on the bike. When the mental hallucinations began I knew it was time to do something about it, and when I'd lost enough altitude to be fairly sure I wasn't going to get hypothermia, I stopped. Leaning my bike against the crash barrier at the side of the road, I set the alarm on my phone for 17 minutes, removed my helmet, and then lay down in a pile of leaves. I must have passed out straight away into the deadest of sleeps, because when my alarm went, it felt like hours had passed. I got up and did my teeth like I was just heading off to my old Westminster office job, and when I climbed back on the bike I felt like a new man (albeit with old knees).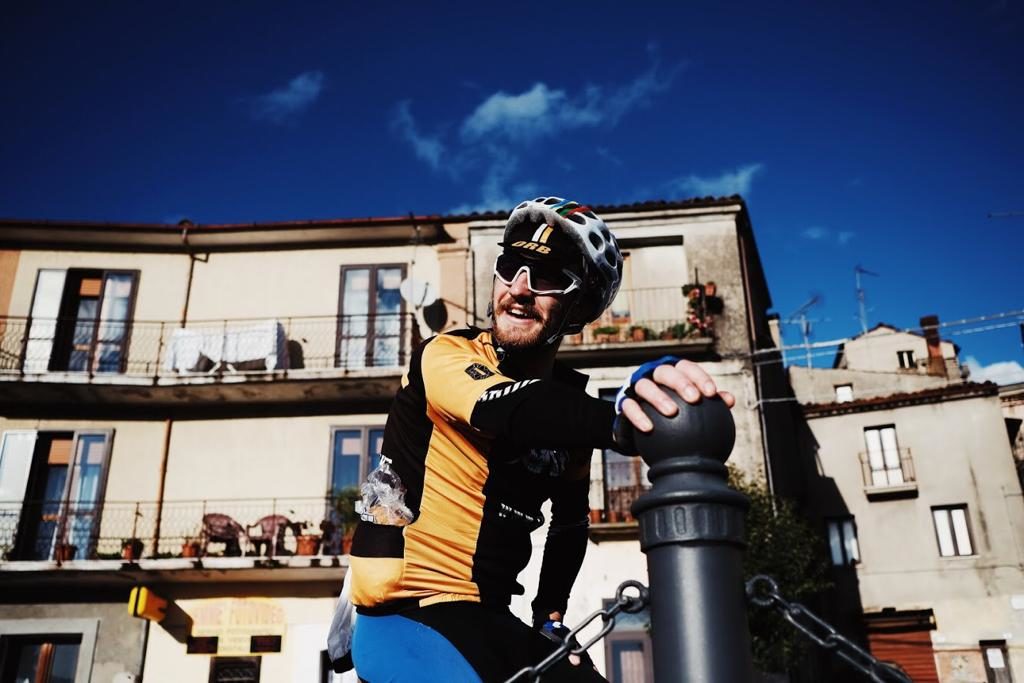 Unfortunately, as I found out later, Ulrich had not slept that night either. Having lain down to rest. He had checked the tracker online to find that the gap between us had closed to less than 50km and had got straight up again and set off.
When I finally reached the ferry which would take me from the mainland to Sicily, I was in great spirits. It was about 0830, I had around 200km to go, and feeling pretty good I thought I could be at the finish line in 10 hours. What I hadn't anticipated was that somehow the race could get harder. Relentless 10% climbs became relentless 20% climbs, and bad roads became impossible gravel. Progress was incredibly slow, and rain, wind, and my lack of sleep started to make the 100km or so remaining seem almost impossible.
Somehow I eventually made it to the foot of Mt Etna, with the finish line in Nicolosi just on the other side of the mountain. I was frustratingly delayed by a quick pit stop in a bar to charge my batteries (both literally and metaphorically), and then pushed on. I came on to the start of the climb proper, and changed gear when the gradient increased. Except I didn't. Instead, the shift lever snapped straight off in my hand (avoid Campagnolo Potenza), and I was left to tackle the remaining 2 hours of Etna climb in just one gear.
I've been asked since whether Mt Etna was as beautiful and otherworldly as people say. I've no idea. Not only was it pitch black, blowing a gale, and near freezing, but the volcano was really not letting me forget it was a volcano by blowing sharp volcanic sand into my eyes. Near the summit, the wind was so strong and my gears so ineffective that I wanted to work, but I worked out that I'd be slightly faster if I stayed on my bike, and just getting to the finishing line as soon as possible was my only priority. The final test was 20km of descent which had me wearing all of my layers, and still shivering uncontrollably in the freezing gale.
After stopping 3 times to ease the pain in my wrists caused by the constant braking, I finally made it down to Nicolosi and across the finish line in second place 65 hours and 50 minutes – around 6 hours behind Ulrich. Race director Juliana Buhring, and photographer James Robertson were there to pour beer and arancini inside me, take a photo of me looking a hundred years old, and then take me off to sleep in a glorified shed.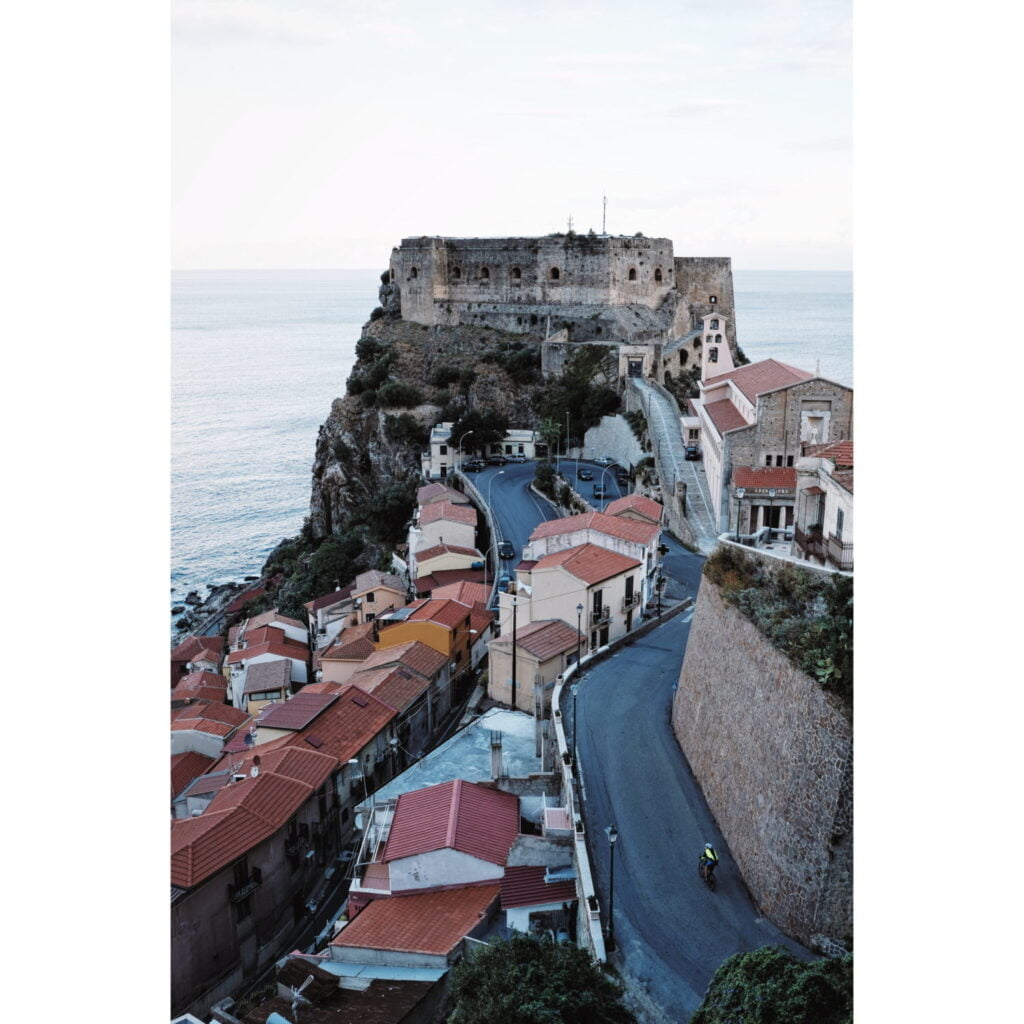 Thanks to Juliana Buhring, James Robertson, Bruno Ferraro, and Two Volcano Sprint for images.