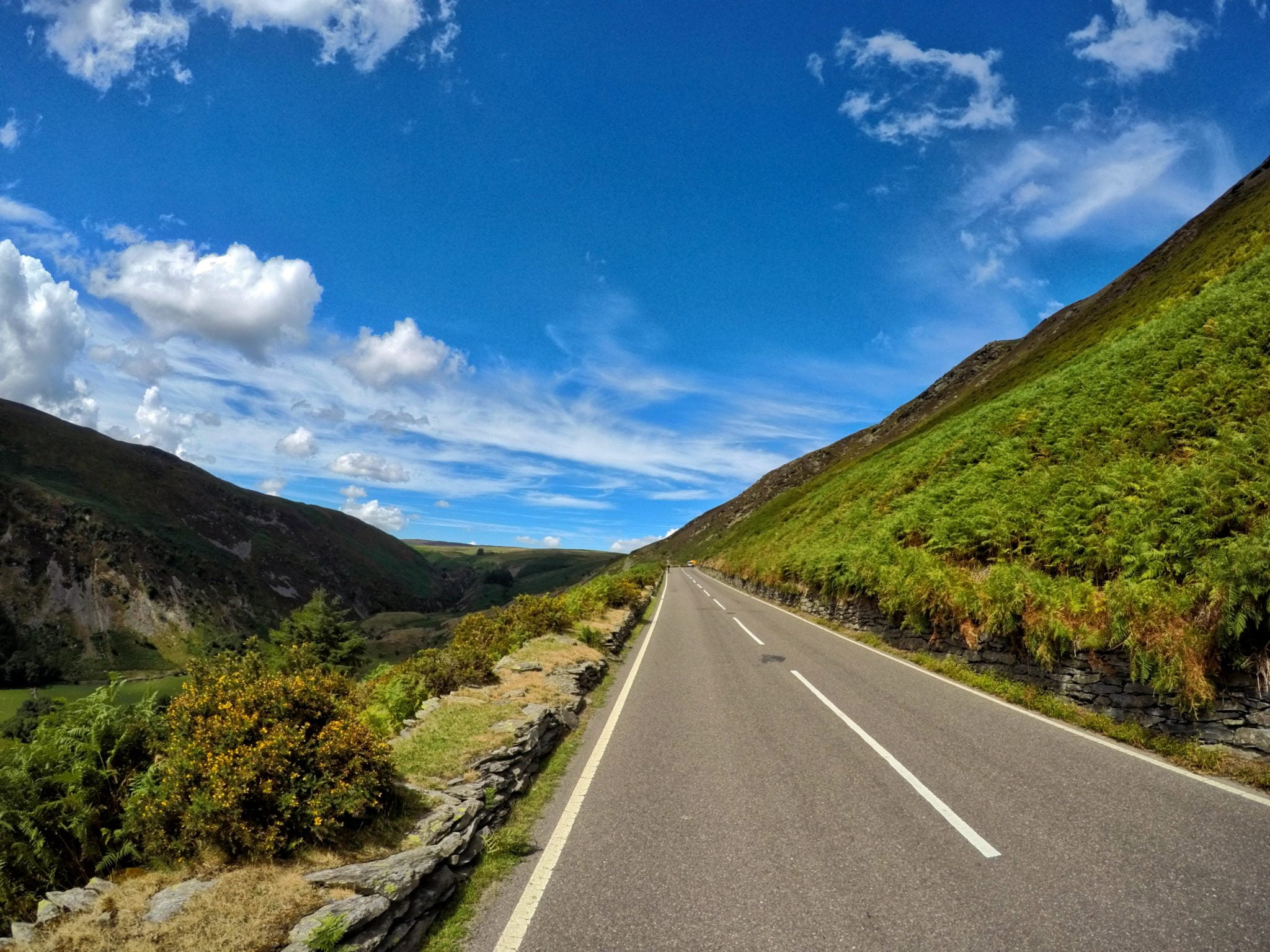 With the Transcontinental having just finished, and the inaugural Silk Road Mountain Race just begun, bikepacking has never been sexier than it is at the moment. So in order to restore some balance to the force, I had planned to treat you all to a series of really geeky gear reviews of my bikepacking kit. Fortunately for all of you, my girlfriend intervened, so I will also regale you with tales of cycling through such exotic places as Gloucester, Holyhead, and Carlisle.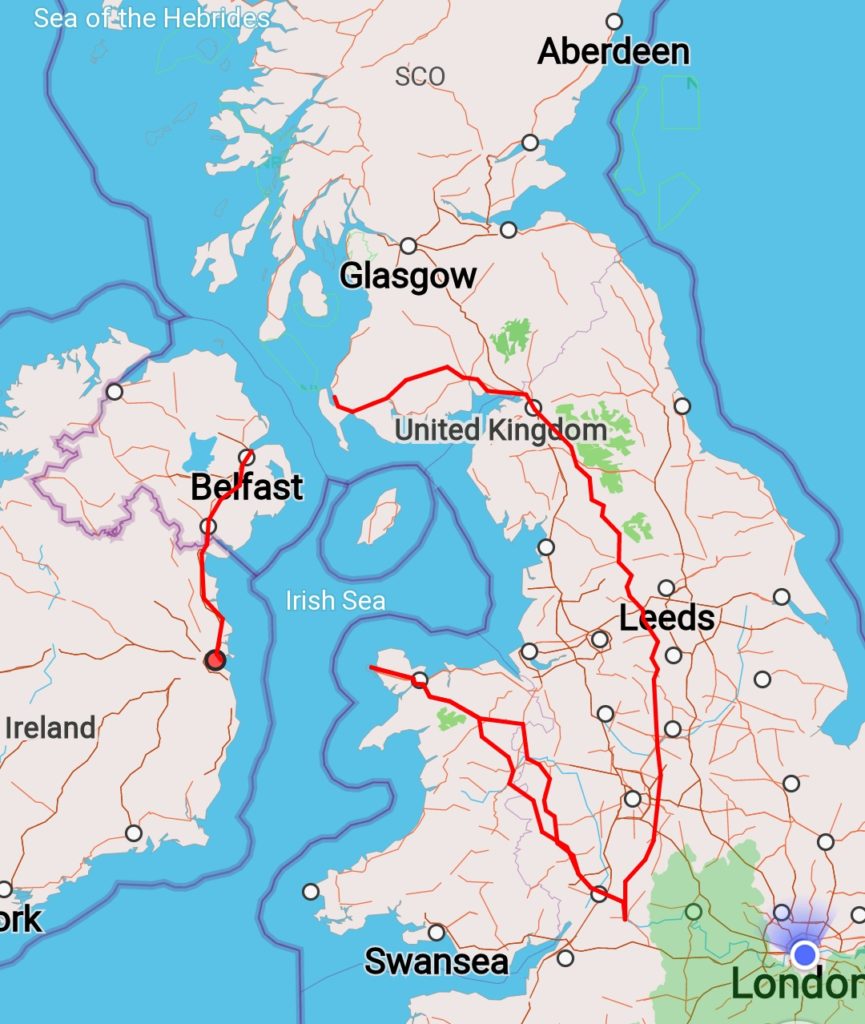 The plan was to set off from Rob's house in Cirencester, cycle up to Holyhead, take the ferry over to Dublin, ride up to Belfast to get a ferry to Scotland, and then ride back down to complete the loop. Around 1160km in 5 days and an evening – not TCR times, but far enough for a couple of guys who haven't put in a ride above about 100km since October.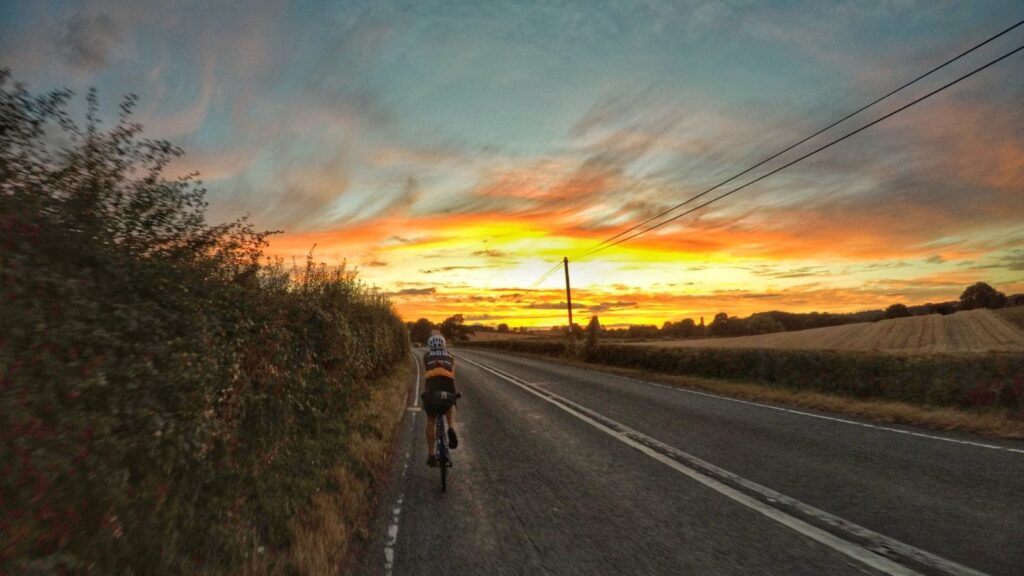 My first gear review opportunity came before we even set off, when I found out that the new Gore C3+ shorts I had bought had the feeling of broken glass glued to a pair of tracksuit bottoms. I ditched them, and bought a pair of Pearl Izumi Pursuit Attack shorts, which I would like to claim were like sitting in a wingback armchair, but the reality is that I spent 4 days in pain. Probably not the fault of the shorts, which were actually pretty good, but more to do with the fact that my body was just not used to 10 hour days in the saddle. Whilst this may be too much information, it would be remiss of me not to also mention the slight nipple chafing the bib straps gave…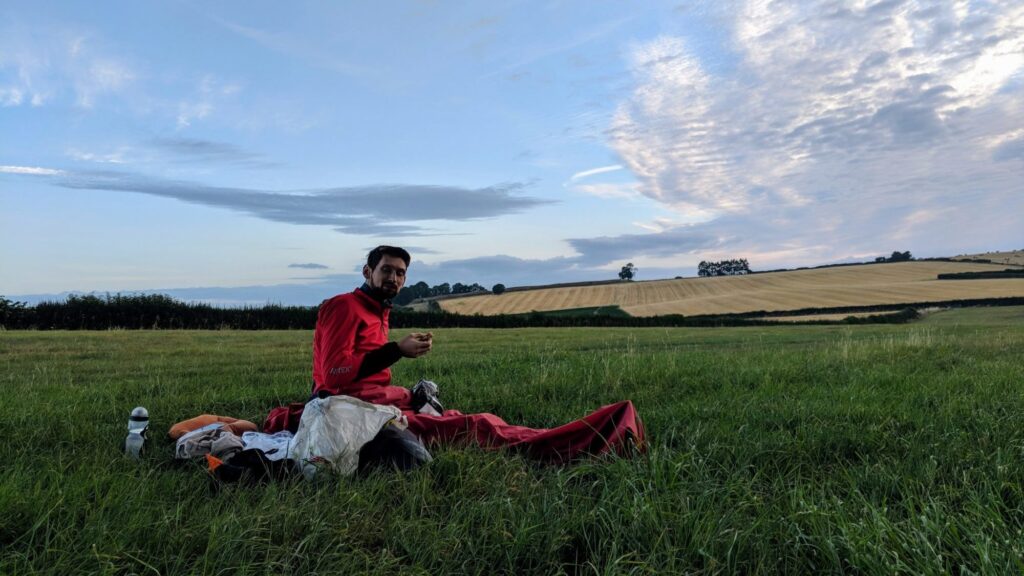 The first evening, we had to get within strike distance of the Holyhead ferry the next day, so after 110km we found a field to bed down in and rolled out our bivvy bags. I would give you a blow by blow comparison of my bivvy (Alpkit Hunka) vs Rob's (Rab Survival Zone), but if you're sandwiching 6 hours of rest between 326km of hilly riding it doesn't really matter where you sleep. Both were lightweight, waterproof, breathable, and left nothing to complain about.
I would recommend the Alpkit purely because it cost £48 rather than £80-90 for the Rab, and is a little lighter. Unless you get it in green, which weighs 30g more than the other colours. Alpkit don't bother explaining why, as if it stands to reason that green is the heaviest colour. I suppose that's the reason you rarely see green aeroplanes, and why peacocks can't fly very well. I wish someone had told me that before I bought two green bikes though.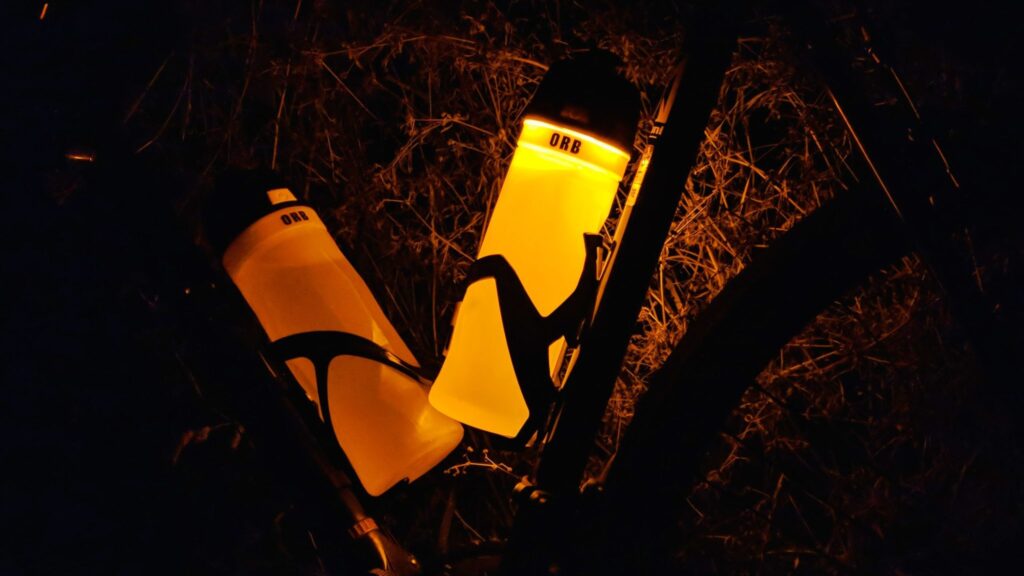 The surprise breakout piece of bivvy gear from that night was The Orb (obviously I am biased because I am more Orb than man now), but it cast a really nice amber glow which gave me plenty of light to set up my kit, without making us look like a pair of Welsh border raiders on a nighttime sheep rustling expedition. I always had my London commute in mind when designing it, but who would have thought all of that side visibility would be just as useful in a Herefordshire field?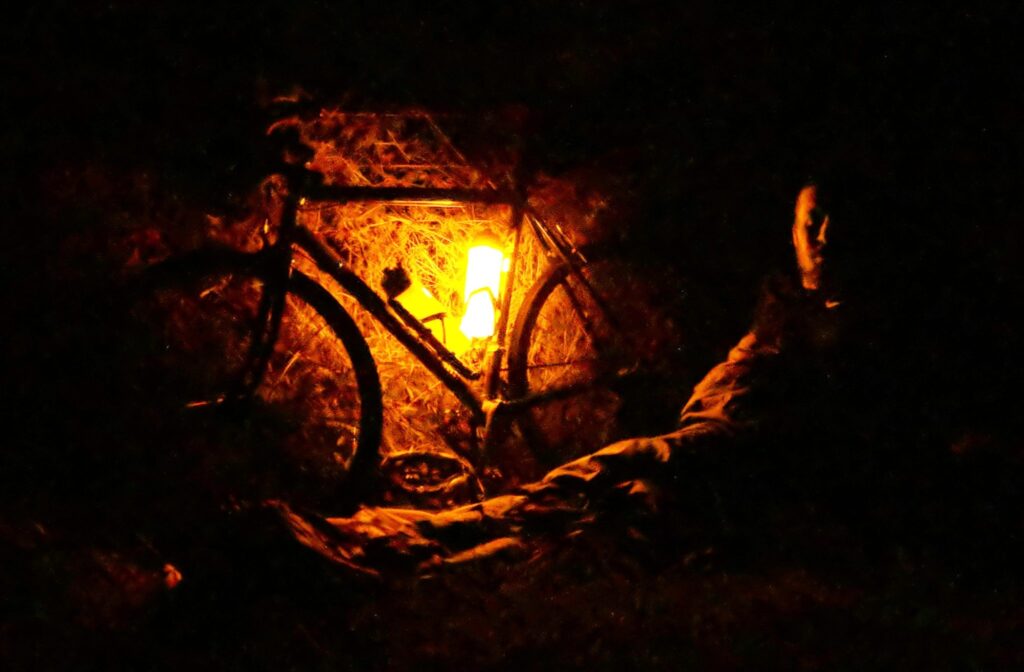 Waking up to a dry sleeping bag and a classic English country scene was a very zen experience, soon shattered by the 220km slog to Holyhead through North Wales' finest terrain. We made the ferry, which was full of stereotypically drunk and friendly Irish people. Displaying our usual penchant for tourism, we were on the island or Ireland less than 24 hours, before taking the ferry back from Belfast to Stranraer.
We continued our quest to have the least restful holiday possible by rolling off the ferry at around 2am, heading into the wilds of Scotland, and discovering that the flattest piece of ground we could find to sleep on was more suited to a cliff diving championship than a campground. After 4 hours of clinging to the hillside, we got up and started riding again, sleep-deprived and heavy-legged but the stunning low cloud hanging over the moors and valleys breathed enough life into us to get us the 50km required to order a haggis breakfast and coffee. The rest of the day was the best cycling of the trip, until we reached Carlisle where a combination of rain and exhaustion caught up with us.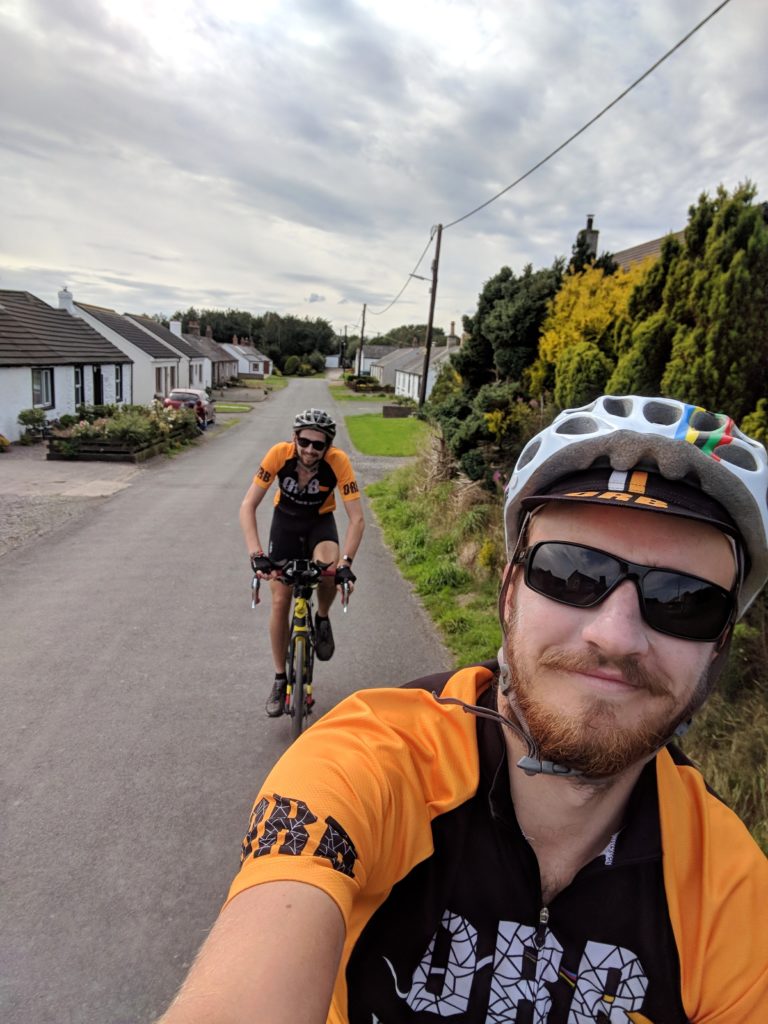 With 760km under the belt in about 86 hours we decided to call it a day and caught the train from Penrith the next morning. Unfortunately the anti-bicycle default state of the UK rail network almost meant it would have been easier to spend 2 days cycling back than actually trying to get our bikes on board a train, but we managed eventually and even found the energy for a few summit races on the final 30km after the train.
Check out some more images from the ride:
[Best_Wordpress_Gallery id="4″ gal_title="Five Nations"]
---
Shop
[wcps id="752″]